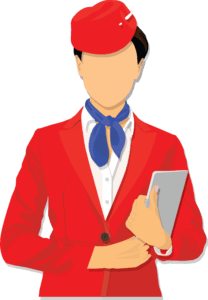 Welcome to Flywayy, where the skies and the world of hospitality converge to create a unique and exciting learning experience. At Flywayy, we take pride in being an esteemed Aviation and Hospitality institute dedicated to shaping the future leaders of these dynamic industries.
In an increasingly globalized world, the aviation and hospitality sectors play pivotal roles in connecting people, cultures, and businesses. Whether it's soaring through the clouds or ensuring exceptional guest experiences on the ground, these industries demand individuals with a blend of technical expertise, interpersonal skills, and a passion for service.
Flywayy stands as a beacon of excellence in providing comprehensive education and training in both aviation and hospitality disciplines. With a mission to nurture industry-ready professionals, we offer a wide range of courses that cover every aspect of these fields, from aviation management and cabin crew training to hotel management and event planning.
Our institute boasts state-of-the-art facilities, including simulated aircraft cabins, cutting-edge hospitality labs, and dedicated spaces for practical training. We believe in a hands-on approach to education, where students can apply their knowledge in real-world scenarios, gaining valuable insights and skills that will set them apart in their careers.
At Flywayy, we are committed to providing a holistic learning environment that goes beyond textbooks and lectures. Our experienced faculty members, who are experts in their respective fields, impart their knowledge and industry insights, ensuring students are equipped with the latest trends and practices.
In addition to academic excellence, we also prioritize personal development and character building. We foster a culture of teamwork, professionalism, and cultural sensitivity, empowering our students to become well-rounded individuals capable of excelling in diverse work environments.
As you embark on your journey at Flywayy, you will have access to a strong network of industry connections and internship opportunities, allowing you to gain practical experience and build relationships that can open doors to exciting career prospects.
Join us at Flywayy and let your aspirations take flight. Discover a world of endless possibilities in aviation and hospitality as we prepare you to soar to new heights in your professional endeavors.
At Flywayy, our mission is to empower aspiring individuals to embark on successful careers in the aviation and hospitality industries. We strive to provide a comprehensive and innovative learning environment that nurtures their talents, hones their skills, and instills a deep sense of professionalism and service.
Our mission is guided by the following principles:
Excellence in Education: We are dedicated to delivering exceptional education that equips our students with the knowledge, skills, and competencies required to excel in the aviation and hospitality sectors. We constantly update our curriculum to align with industry trends and standards, ensuring our graduates are well-prepared to meet the evolving demands of these dynamic industries.
Practical Learning: We believe in a hands-on approach to education. Our programs integrate practical training, simulated scenarios, and real-world experiences to bridge the gap between theory and practice. Through industry partnerships, internships, and immersive learning opportunities, we empower our students to apply their knowledge in authentic settings, fostering their confidence and expertise.
Personal Growth and Character Development: We are committed to nurturing the holistic development of our students. Alongside academic excellence, we emphasize personal growth, leadership skills, cultural sensitivity, and ethical practices. We strive to shape individuals who possess integrity, resilience, and a passion for service, enabling them to become exemplary professionals and responsible global citizens.
Industry Relevance: We maintain close ties with the aviation and hospitality industries to ensure our programs stay relevant and responsive to industry needs. We actively engage with industry experts, professionals, and organizations to gain insights into emerging trends, technologies, and best practices. This enables us to equip our students with the most up-to-date knowledge and skills, positioning them as valuable assets to their future employers.
Support and Success: We are committed to the success of our students beyond the classroom. We provide comprehensive support services, including career guidance, job placement assistance, and ongoing professional development opportunities. Our aim is to empower our graduates with the necessary tools and resources to embark on fulfilling careers and make significant contributions to the aviation and hospitality industries.